Back in the days of COVID shutdowns, my family got through the days by going for walks together. Now as we are starting to get back to "normal," going for a walk is still a great family activity-but unfortunately my kids cringe when I suggest going for another walk! Here are some great kid friendly places for you to check out in the Westfield/Agawam/West Springfield area and some tips on how to make hiking fun for kids!




1. Granville Gorge
Rte 57, Southwick
The Granville Gorge is my family's current favorite place to go for a walk-my son loves it so much he asked if he could write a review for me about it so stay tuned for that. The Gorge is easy to get to-just look for the sign above-after driving about 5 minutes on Rte 57 past the intersection of 10-202 and 57. There is plenty of parking and you can hear the rush of water the second you leave the car. Bring a sweatshirt-once you make the quick walk down to the bottom of the gorge the temperature drops quickly. This is a great place for kids to climb on rocks and explore but it is definitely not stroller friendly and there are no bathrooms.

2. Stanley Park
400 Western Ave, Westfield
Everyone knows Stanley Park for its duck pond and great playground. You can walk the paved trails around the park and explore areas such as the rose garden and the bell tower. But there is an entire wildlife sanctuary of trails behind it that is a great option for walking with kids! The wooded trails are clearly marked and are easy to walk, bike, or take your pets for a stroll. There is a small stream with lots of areas to sit near the water and throw rocks in. Check out the maps below for details.
Trail maps for the entire park and just for the wildlife sanctuary can be found here!

3. Robinson State Park
428 North Street, Feeding Hills
Robinson State Park has tons of places to park along North Street and 187 for free so you don't need to enter through the main gates of the park. I highly recommend following the white trail marked on the map below as it winds you through a wooded path next to a small creek and also by a small waterfall. If you want to bring a stroller, there are many paved roads to walk as well. There are no bathrooms here so plan accordingly!
Trail map for Robinson State Park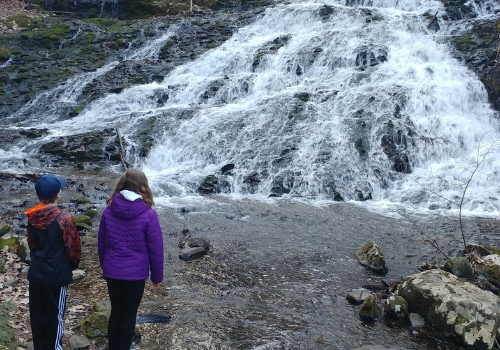 4. Bear Hole Reservoir
Bear Hole Road (off Dewey Street), West Springfield
Bear Hole Reservoir is tucked into the middle of a residential neighborhood and FYI the trail maps on West Springfield's website are not helpful at all in navigating this place. I took a wrong turn more than once on our hike so make sure to take a photo of the sign by the chain link fence entrance. I highly recommend following the trail with the yellow diamonds known as the reservoir loop. This trail will walk you past a waterfall (next to yellow diamond #2 on the trail-see in the picture above) and provide beautiful water views of the reservoir. I would definitely not call this a beginner trail and I am not sure little kids would have the stamina to make it all the way around the loop. I'm also not sure a stroller could handle all the terrain but I did end up off the beaten path a few times so it's possible.
Information about Bear Hole Reservoir

5. Mittenague Park
1695 Westfield Street (Rt 20) West Springfield
Mittenague Park has a 3 mile nature trail that you can walk as little or as much as you would like at any time. The town of West Springfield provides an amazing 28 page booklet (see link below) that provides a self-guided tour with a map and information about the landmarks and local plants and would be a great resource for older children to enjoy while hiking. Little children will love the nearby playground which can be used as an incentive to keep little legs moving. Make sure to drive past the main entrance and enter the park from the side entrance off of Park Drive.
Click here for the 28 page trail guide!

Here are a few ideas how to make walking with kids more enjoyable for everyone:
Wear comfortable shoes and use the bathroom before heading out on the trails. Not all walks have access to bathrooms and other parks haven't yet opened theirs for the season.
Bring a small bag to carry snacks, wipes for dirty hands, and to collect any trash. You might want to give your kids their own backpack to collect interesting items they find along the way. My kids love to collect "stuff"
Go a scavenger hunt! Google "spring scavenger hunt" or "nature scavenger hunt" and tons of printables pop up. Choose one at your kids level and let them hunt for the things on it.
Print out the various trail maps and guides (links above) and let older children navigate through the woods.
Take a break to throw things in the water or to climb something! The majority of the walks I've listed above have a water element to them (lake/creek/waterfall etc) and water is entertaining for kids and calming for adults. My kids love to rock climb across creeks or balance over water on a fallen log.
Paint rocks beforehand and hide them as you walk. Or keep an eye out for painted rocks while walking. In the earliest days of COVID, my family painted a lot of rocks and hid them all over town. This actually was a huge stress relief for me back then. Westfield and Agawam are super into the rock painting movement and have very active Facebook groups posting daily frequently about where to find rocks. Search for "Agawam ROCKS" and "Westfield Rocks!" on Facebook. Clever group names aren't they?
When all else fails "reward" them with a trip to the playground or an ice cream after (stay tuned for my list of favorite ice cream places coming soon!)
Get a FREE family-friendly event calendar for Westfield, Southwick, Agawam, & surrounding area full of festivals, fairs, activities, events and more!